Online Audit System Development for Food Manufacturers
Audit Trail Technologies' groundbreaking new online auditing system has been designed and developed by SkillsLogic.
Audittec.com will make it easier for organisations to meet the requirements of audit compliance and at the same time save money. Audit data is captured with a tablet app and then synchronised with a cloud based database. The data is accurate, it's timestamped and it can be supported with notes and photographs. Non-compliance issues are automatically escalated and the system tracks issues that still need to be closed out. The savings on paper and printing costs alone can be significant.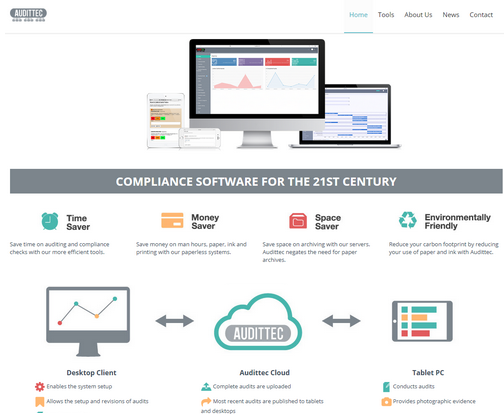 Some of the highlights of the audittec.com bespoke software development are:
A lengthy design phase to trial different mock-ups with the client and get the best possible overall design. The client provided auditing expertise and we worked with them to unpick the detail behind their requirements.


Development of a tablet app (for both iOS and Android) that has to work on the factory floor in both offline and online modes - so we built a robust tablet solution that syncs with the central database whenever the app is back online.


A configurable system that's flexible enough to cope with different types of audit and different team structures.


A suite of management reports gives senior staff an overview of audit history, non conformances and closed out issues.


The web application is built with PHP and PostgreSQL and we used Cordova for the tablet app. Cordova makes sense because one app can deployed to both iOS and Android, saving our client development cost and making maintenance easier.
The initial market focus for audittec.com will be the food manufacturing industry though its flexible, generic design means it will work equally well in other industry sectors.