A Learning Management System and more for Practice Index
In 2017, Practice Index, an organisation providing a wide range of services to General Practitioners, approached us about developing a learning management system to deliver online training courses to GP practices in the UK. Practice Index found themselves in a common predicament. They had spent some time configuring a hosted virtual learning environment (VLE) solution provided by a big player in the market but were unsatisfied with the inability to modify the system to better support their business model.

After initial analysis and discussions with Practice Index, it became clear that the best way to deliver exactly what the customer wanted would be to start with our white-label learning management system; then customise a number of its components and add in some new bespoke components created just for Practice Index.
This approach meant that Practice Index got a learning management system that that had many of the features they needed 'for free' such as:
Support for SCORM for eLearning content they had already procured.
Multi-tenancy. This allows multiple clients to exist in their own secure data 'silos', including delegating system administration to clients for maintaining their own users.
Extensive tracking of learning outcomes making it easy to see who has started, who has not started, and who has completed which courses.
Email reminders to individuals about their due dates and support for re-validation.
The ability for clients to add their own courses, induction and training.
In addition to all the out-of-the-box functionality that came with the white-label LMS we built a number of bespoke components to make sure the final system matched the way Practice Index operate such as;
Custom registration process - allowing Practice Index to verify practices and accept or reject them
Subscription model - making sure that practices get access to all the courses for their subscription level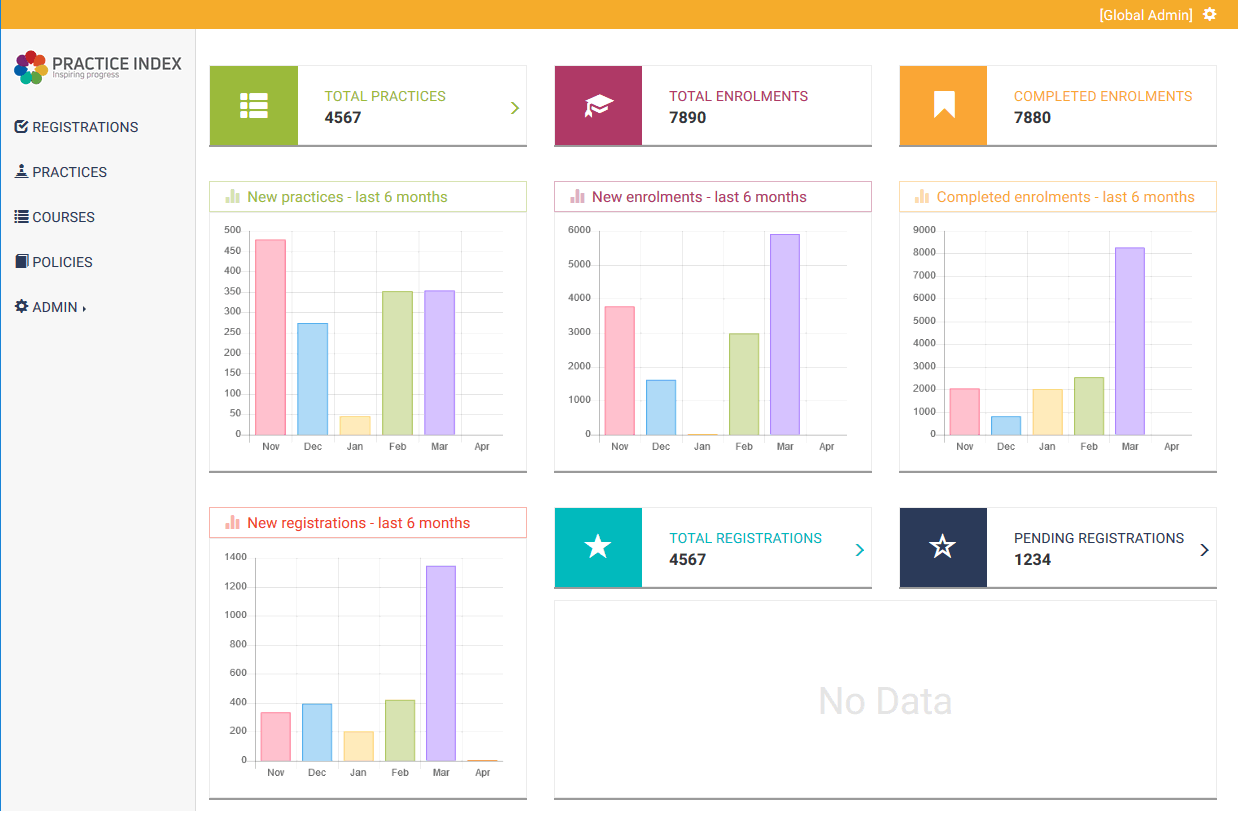 With the white-label learning management system at its heart, we are now working with the customer to add a range of further services that will take the system to the next level such as policy and compliance management.
James Dillon from Practice Index said:
"Every member of the team at SkillsLogic have been fantastic. They are extremely knowledgeable about a wide range of applications and their expertise have been invaluable to us as a business. They are brilliant at quickly understanding what we want and producing a solution that works."

"They have a great eye for detail and take care to produce a tried and tested application we rely on every day. "

"So far they have produced for us a market leading LMS that is stable and easy to use, all for a cost effective price and with great support."